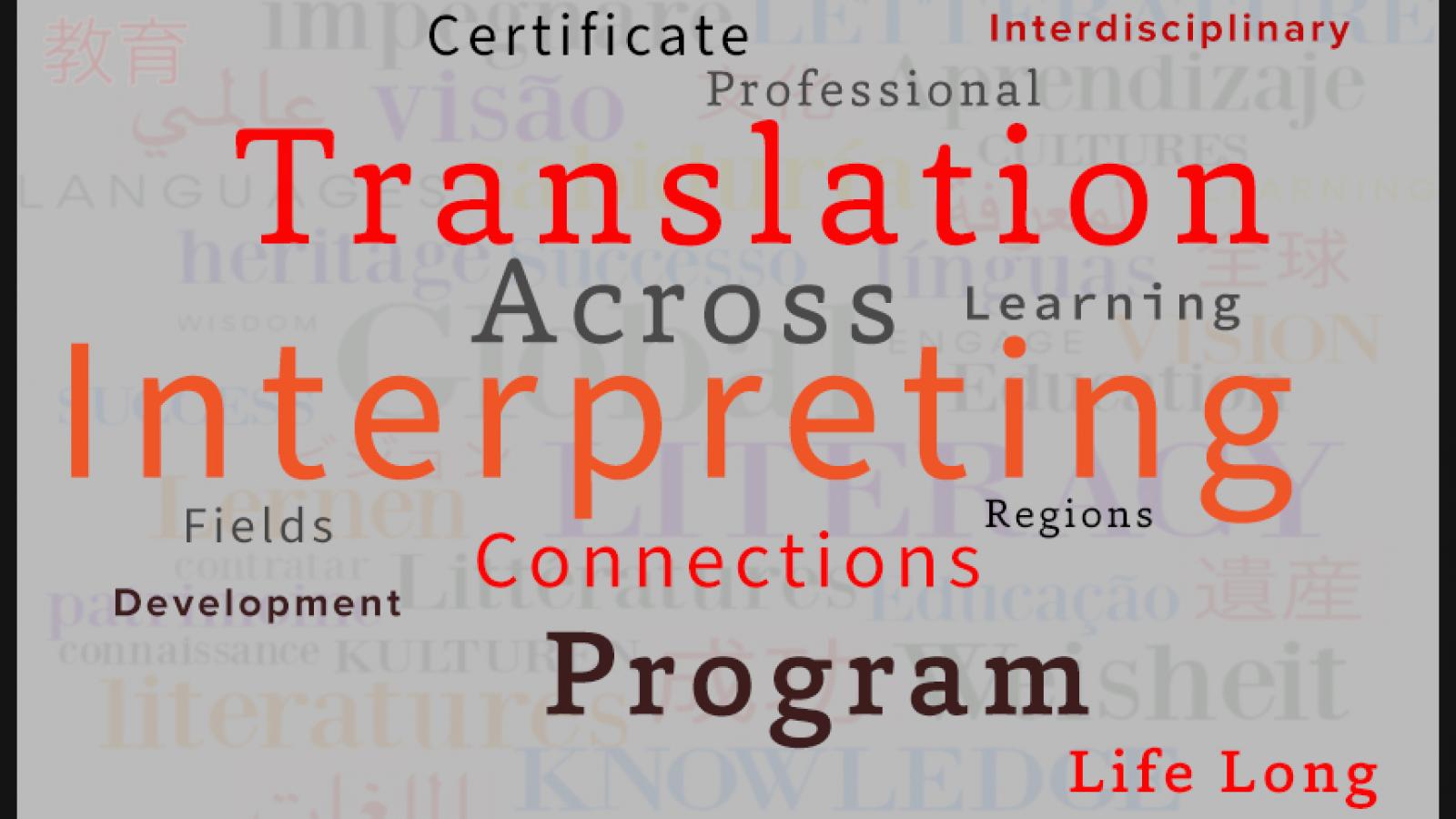 Body
The Translation and Interpreting Program at The Ohio State University is home to several initiatives:
Advanced
Text
To enable students to experience the joys, master the challenges, and reap the professional rewards of Translation and Interpreting is at the heart of the Translation and Interpreting Certificate. The Translation and Interpreting Program:
Offers all undergraduate students with intermediate competency in a language other than English the opportunity to earn an Translation and Interpreting (T&I) Certificate (12 credits).
Allows students to deepen their interests and training in different subfields of T&I such as Literary Translation, Professional Translation, and Community Interpreting.
Regularly offers core courses in Community Interpreting (CLLC 5100), Professional Translation (CLLC 5101), and Literary Translation (CLLC 5102).
Regularly offers a T&I practicum course (CLLC 5103) to allow students to gain practical experience and professionalize themselves in their specific area of T&I interest through the shadowing of professionals, volunteer work, internships, and/or paid work at OSU and/or in off-campus settings.
Coordinates with units across campus to regularly offer T&I related courses in Language Departments and Programs (e.g., ASL, EALL, FRIT, GLL, NELC, SPPO, SEELC) and other units across campus (e.g., English, Linguistics, Comparative Studies)
To declare for the T&I Certificate, contact Emily Carpenter (ASC Advising): https://artsandsciences.osu.edu/academics/programs/certificates/translation-interpretation
To find out more about T&I resources at OSU and elsewhere, contact Prof. Patricia Sieber (Director, Translation & Interpreting Program).
Text
To promote an interdisciplinary network in Translation and Interpreting, the Translation and Interpreting Program:
Connects faculty, instructors, and researchers with interests in Translation and Interpreting in units across campus to foster increased collaboration.
Seeds new courses in Translation and Interpreting, enabling students to explore new areas and deepen their knowledge.
Helps support lecture series and conferences to share new perspectives that enrich research and curricula in Translation and Interpreting Studies.
To publicize and develop T&I lectures and events, please contact Prof. Paul Reitter (reitter.4@osu.edu) and Prof. Johanna Sellman.
Text
Life long learning and continuing professional education is a central aspect of a career in Translation and Interpreting. Therefore, the Translation and Interpreting Program:
Seeks to bring current CLLC core courses to the attention of working professionals so that they can enroll through OSU Extended Education (https://extendeded.osu.edu/)
Is in the process of developing a Professional Certificate geared toward working professionals.
Plans to support and organize T&I-focused career and professional development events at OSU, in the K-12 sector, and in community and professional contexts.
Seeks to build connections with professional associations such as The American Translation Association, the Commission on the Certification of Healthcare Interpreters, the National Board for the Certification of Medical Interpreters, and the Community and Court Interpreters of Ohio.  
For further information, contact Prof. Patricia Sieber.