March 20, 2020
Engagement Through Storytelling
Image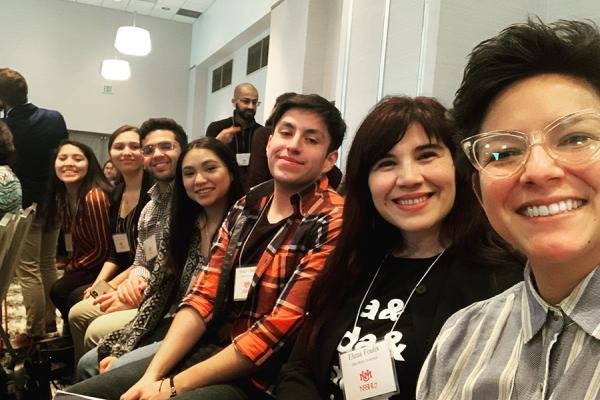 Description
Foulis awarded for work with Latin@ community and students
Through class activities, community initiatives and storytelling projects, Elena Foulis has fostered connections with her students — many of them Spanish heritage language learners — and the local Latin@ community.
These relationships have led to meaningful collaborations, understandings and productions that celebrate students' and community members' stories and amplify the Latin@ experience.
"At the center of what I do is making sure we recognize each other, the work that we do individually and with each other and how we are learning from each other," said Foulis, a faculty member in the Department for Spanish and Portuguese.
Foulis was among three recipients (and the only one in the College of Arts and Sciences) awarded a 2020 Community Engaged Scholar Award, which recognizes faculty members who have made significant contributions to Ohio State's culture of engagement and its commitment to supporting communities.
Her work with Ohio's Latin@ community is significant.
As part of her service-learning course, Spanish in Ohio, students work with local Latin@ community groups and develop valuable relationships with leaders and the community they serve. 
Foulis also interviewed Latinos and Latinas across the state about their lives as part of a digital oral history project called Oral Narratives of Latin@s in Ohio. The collection of interviews features a wide range of experiences that share a common commitment to community through activism, education, policymaking, faith and cultural events meant to celebrate their heritage. (Visit the archive at the Center for Folklore Studies).
The stories were also featured in e-books, Latin@ Stories Across Ohio and Mi idioma, mi comunidad: español para bilingues. They have provided her students with key resources to better understand the rich heritage of Ohio's Latin@ community as well as the complexity, diversity, and, sometimes, the structural and systematic inequalities they have faced.
The project has also led to the creation of the Ohio Habla podcast, which recently celebrated its 100th episode. The podcast has helped Foulis and her guests expand to topics of cultural identity and issues that matter to their community.
Her recent initiative, a student ensemble group called PerformancerUS, brings Latin@ stories to the stage. The group creates poems, monologues, dialogues and other performance pieces inspired by Latin@ stories captured from her digital oral history project as well as from students' personal experiences.
"I wanted the students to find a way to engage with the archive through creative work, and think about how we learn from the stories I've collected and how do we dialogue with them," Foulis said.
Since last year, the group has performed on a variety of stages, including a conference at Bowling Green State University in 2019; an opening act for LatinUS Theater in Cleveland, a Latin@ theater company; and a symposium for Spanish as a Heritage Language in New Mexico this year. They were scheduled to perform and host a workshop Saturday, March 21, for Proyecto Mariposas, a leadership and empowerment program that translate to "Butterfly Project" for Latina girls and their mothers in Columbus, but had to reschedule because of limits to mass gatherings to prevent the spread of the coronavirus.
Foulis said the project provides a creative way to empower Latin@ college students to engage with the community through personal storytelling.
For junior Stefania Torres-Grisales, being a part of PerformancerUS and working with Foulis has been a life-changing experience.
For her performance, Torres-Grisales created a poem about what esperanza or hope means to her as a Latina. She shared her feelings about topics she normally keeps to herself: the stigma surrounding mental health, perceptions about the color of her skin and how being part of the LGBTQ community can be perceived in the Latin@ community.
"I found a group of people who understand and hear me when I don't think I've been able to be heard as much, and I owe it all to (Foulis)," she said.
Torres-Grisales, a social work major with a Spanish minor, said Foulis gives students the opportunity to express themselves, no matter what that looks like. Now she wants to continue working in the Latin@ community after college and hopes to inspire others to share their stories.
 "(Foulis) deserves a lot of recognition for what she does," Torres-Grisales said, referring to the Community Engaged Scholar award. "I feel pretty lucky to be working with her."
---