April 9, 2020
From French to Fulbright
Image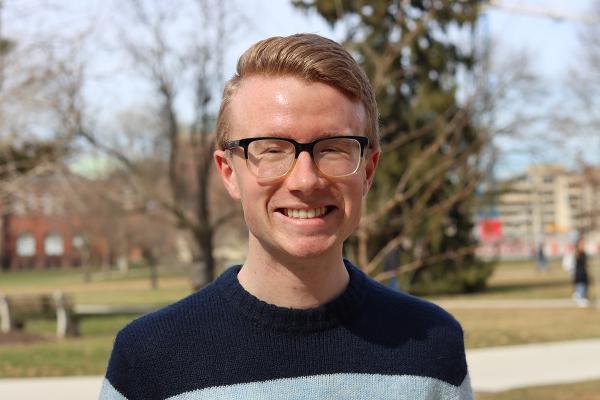 Description
Ross Guthery came to Ohio State in 2016 certain that he was going to study French.
He kept an open mind to everything else — what other academic interests he wanted to explore, what student organizations he wanted to join, what direction he should consider for his career.
Now, he's poised to graduate in May with an honors degree in economics and French and a minor in math. He'll continue his studies in the fall thanks to a U.S. Student Fulbright Grant to pursue a master's degree in data science at ESSEC Business School in Paris, France.
"I wouldn't have come upon these experiences or met a lot of the people I have met had I never thought, 'This sounds interesting. I'm going to try it and see what happens,'" he said.
It all started with a Principles of Microeconomics course.
As a freshman, Guthery was looking for another major to complement his French studies and exercise his analytical reasoning skills. Through Ohio State's exploration program, he discovered Ethan Doetsch's microeconomics course.
"A light bulb went off," Guthery said. "Because economics is a social science, you still get to study people, but the tools you use to do so are different—they're more quantitative in nature."
Guthery, who had not taken an economics class in high school, said Doetsch's microeconomics course distilled complex ideas and clearly explained the connections between theory and its real-world applications. It inspired him to dive into the subject further and led to a math minor in case he wanted to pursue an advanced degree in the field.
Guthery spent his summers seeing if economics and French were the right path after college. During the summer after his sophomore year, he was awarded a Huntington Fellowship to support a study abroad program in Montpellier, France, where he developed a love for the country and fluency in the language.
Last summer, he found a way to apply what he was learning in the classroom in the context of data science by interning with Zillow, an online real estate company. He learned about the technical skills needed in the data science field and valued the culture of learning that comes from a constantly evolving environment.
"The field is always changing," he said. "No matter if you are the most entry-level or senior-level employee, you're always learning."
At Zillow, he was a part of the New Construction Analytics team, which manages products that help builders present customers with detailed information about their developments. Analyzing data helped him realize that there's a connection between math and French.
Math is its own language, he said. In his French literature classes, Guthery would study and translate historical texts, then explain his insights. You are doing something similar when synthesizing data, he said.
"Not only did it underscore for me the need to have quantitative thinking skills, but also the need to have effective communication skills," he said. "No one is going to listen to you if you can't explain your ideas to them in terms they'll understand."
At the end of his junior year, Guthery was interested in pursuing a graduate degree and returning to France. He didn't make the connection until a contact from the Honors and Scholars Center suggested he attend an information session on the Fulbright program.
Through a U.S. Student Fulbright Grant, Guthery could both pursue a master's degree in data science at ESSEC Business School in France and explore how data science can be used to improve access to nutrition. While the university programs would be in English, he would have to use his French while living near Paris.
He applied to business school and the Fulbright program last fall. He received his acceptance letter from ESSEC in November and was recently notified of his Fulbright grant.
Fulbright grants are awarded by the U.S. Department of State and the J. William Fulbright Foreign Scholarship Board based on academic and professional achievement, as well as students' record of service and leadership potential in their respective fields.
Fulbright leaders are currently monitoring the evolving circumstances surrounding COVID-19. Guthery said everything is still on track for his Fulbright cohort, which starts in the fall. 
"You may think you know exactly what you want to do or what your path looks like moving forward but be open-minded, because you never know what you'll encounter along the way," he said.
---