January 20, 2021
Global Gallery Exhibit
Image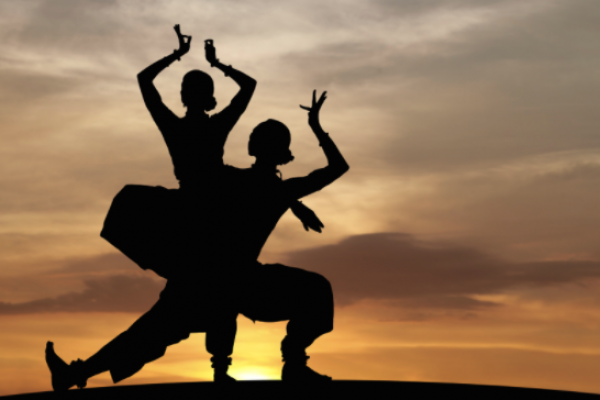 Description
Classical Dances of India

The history of Indian classical dance forms emerges towards the end of the 19th century at the intersection of British colonial policies and anti-colonial sentiment in India's national movement.  Between 1750 and 1947, British colonial policies morally opposed the dance practices of hereditary practitioners whose livelihoods were situated within Indian temples and courts. In opposition, Indian nationalists saw value in reviving the dance practices for nationalistic purposes.  Individuals in the 20th century ensured the survival, revival, and transition of these dance forms to the modern stage by standardizing training and codifying the movement vocabulary.  They traced the roots of these practices to the Natyashastra, an approximately 2,500 year-old text on dramaturgy.  The Natyashastra outlines postures, gestures and movements that influence present day Indian classical dances.

Today there are eight recognized Indian classical dance styles: BharataNatyam from Tamil Nadu; Kathak from Uttar Pradesh; Kathakali and Mohiniyattam from Kerala; Kuchipudi from Andhra Pradesh; Odissi from Odisha; Sattriya from Assam; and, Manipuri from Manipur. These styles are recognized by the Sangeet Natak Akademi.  Established in 1953, the Sangeet Natak Akademi is India's national academy for music, dance, and drama. It is dedicated to the promotion and growth of Indian music, dance and drama through the maintenance of training standards and recognition of outstanding artists.

This exhibit provides an overview of Indian classical dances by looking at their histories, practices, techniques, costumes and makeup, ensembles and repertoires. This exhibit acknowledges that the categorization of Indian classical dance creates a narrative that these practices are ancient and have always been performed in the way they are today.  However, as Indian classical dance forms move from regional to national and international stages, they are adapting to new cultural contexts.  For example, Kathakali performers have staged Shakespearean plays like King Lear.In addition to traditional themes.   The classical dances are also incorporating issues of human rights and social justice.

This exhibit has been curated by Rohini Acharya, PhD candidate and lecturer in the Department of Dance at OSU.
---