August 24, 2023
Meta Quest 2 VR for Language and Culture Learning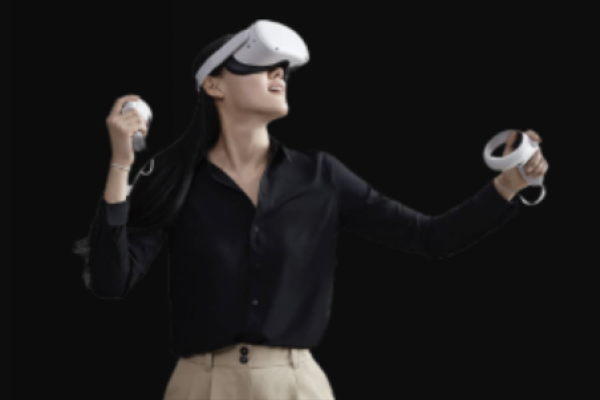 The Center for Languages, Literatures and Cultures (CLLC) would like to congratulate a research committee who was selected as a Henderson Plenary Finalist at the International Association of Language Learning Technology Conference (IALLT) in New Orleans on June 15, 2023.  The committee conducted virtual reality experiences and grammar exercises with intermediate level Italian students in the spring of 2023. The committee includes Prof. Janice Aski, Director of the CLLC, Dr. Rebecca Bias, CLLC Assistant Director, Dr. Kevin Richards, Assistant Teaching Professor in Germanic Languages and Literatures and Samanta Buffa, a PhD student in French and Italian.  Samanta's ongoing dissertation topic includes virtual reality application for Italian language instruction. 
The goal of this project targeted the perceived learning outcomes of 23 students of Italian at the ACTFL Intermediate Level.  We hoped to gather qualitative data at the end of the 
sessions. During the study, students first participated in a 360-degree virtual walking tour of Bologna, Italy using individual Quest 2 headsets, and then for the next immersion exercises Kevin and Samanta created a virtual apartment using available software and VR Chat.  They targeted salient vocabulary and grammar from the textbook to help students arrange the furniture in their apartment in Bologna for a "virtual" study abroad trip.   
In Room One students received specific instructions in Italian that included matching vocabulary to the furniture objects (grab, drag and drop).  In Room Two the students arranged the furniture with cues in Italian as to where to place them. After completing these steps correctly, Room Three welcomed two students (roommates) to set up their room together for authentic interpersonal and communicative interaction.  
We asked our students if they felt VR had helped them with the learning process, and we had positive feedback. Here are just two of the answers we collected: 
"Being able to actually move things to the correct spot helped learn locational adverbs. Then, saying it to classmates and hearing it from them helped." 
"It definitely improved my learning especially having to physically place the objects correctly."  
We hope to do further studies targeting quantitative data in the near future. This is one of the first virtual reality applications for Italian language and culture instruction in academia. 
More info:  Rebecca Bias 
---