May 15, 2020
Strope honored with 2020 Ohio State Distinguished Staff Award
Image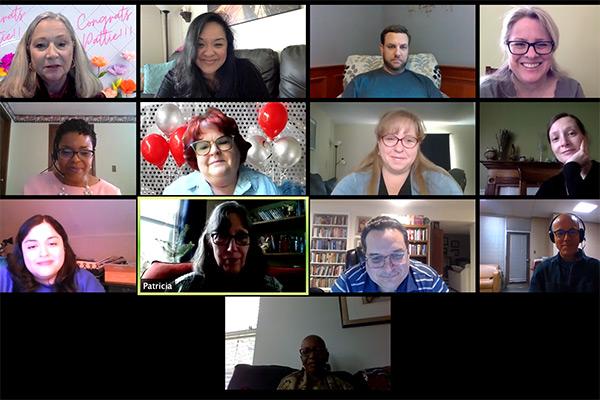 Description
Pattie Strope, the information associate at the Center for Languages, Literatures and Cultures, has been awarded the Distinguished Staff Award, the highest honor bestowed upon staff at Ohio State since its inception in 1984.
Strope is among 12 staff members honored for their outstanding achievements, service, leadership and dedication to the university.
According to the center's Assistant Director Rebecca Bias, Strope is "our historian, our cheerleader and our confidant."
"She is the cement that holds us all together in the CLLC, but also the soft heart that makes our work environment such a pleasure," Bias wrote in Strope's award application.
Bias described how Strope's work extends beyond her role as information associate. She is the first face a visitor sees when they enter Hagerty Hall from the Oval, serving as a resource for those who are lost or have a question. After 30 years at Ohio State, her institutional knowledge has been a resource for peers at the center and at other departments. She has a charitable heart, crocheting blankets for expectant co-workers and organizing contributions for service personnel who have experienced hardships during the holiday season.
She is a calming presence at Hagerty Hall, even during times of crisis. Bias recalled Strope's response to a student during an active shooter situation on campus several years ago.
"One young girl was so distraught that she became physically ill," Bias wrote. "(Strope) was able to care for her and reassure her that all would be fine. The young girl clung to (Strope) for support and found comfort in her, just as we find comfort in her every day just having her in the center."
Strope came to Ohio State in 1990, when she worked the front desk for the dean of the College of Arts office. She eventually became the dean's assistant until 2008, when she joined the Center for Languages, Literatures and Cultures.
"It means a lot to know that I am appreciated for not only my work, but also as a person," Strope said. "I've always been a team player, who loves to help in any way I can. For me to get this award as I'm nearing retirement is bittersweet because I cherish my time here and the people, who turned out to be family."
---