June 15, 2020
Xie and Jiang study impact of pandemic political discourse on international students as part of COVID-19 grant
Image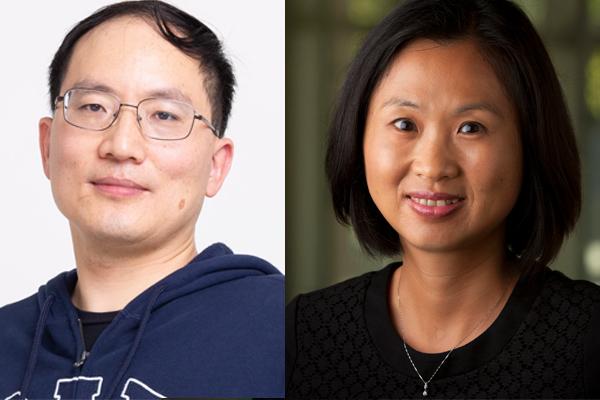 Description
Zhiguo Xie, an associate professor in the Department of East Asian Languages and Literatures, pored over news accounts surrounding COVID-19 since the start of the pandemic. He was particularly interested in how the virus was described in the United States and China.
There was no mistaking the political undertones.
The Trump administration cast blame on China, calling it the "Chinese" or "Wuhan" virus while China countered with a social media campaign claiming that the U.S. Army might have "brought the epidemic to Wuhan."
As a linguist, Xie was struck by the many ways to explore the rhetoric surrounding COVID-19, from how news outlets report on the virus to the conflicting messages coming from Republican and Democratic politicians based on how they've framed the pandemic.
As part of the COVID-19 Special Grants Initiative from the Global Arts + Humanities Discovery Theme, Xie is working with Cindy Xinquan Jiang, a senior research associate in the Office of International Affairs, to examine the political discourse around COVID-19 and its impact on international education, particularly Chinese international students and American students interested in studying abroad in China.
The conflicting messages on the virus have created chaos for international students who are not aware of the politics of this country, Xie said.
It's a similar situation for prospective education-abroad students reading reports from Chinese social media clouded with conspiracy theories that the virus started in the U.S..
As part of the grant, Xie and Jiang will spend the next year studying political discourses during the pandemic. They'll examine how the language choices and messages are interpreted and shape collective and individual experiences and perspectives in the context of international education.
Global crises often foment xenophobia, racism and other forms of discrimination, Jiang said. As higher education institutions and policy makers reflect on the COVID-19 pandemic and its impact on international education and global student mobility, "our study will be informing how political discourses impact students engaged in international education and what lessons can be learned in supporting international education during these times of crisis," she said.
According to a recent survey conducted by the Office of International Affairs, international students at Ohio State have already experienced social stigma related to the pandemic.
"Our international students are concerned about their personal safety and the cultural, social and political climate in the United States," Jiang said.
She noted that current and potential changes to F-1 student visa regulations have implications for students' academic pursuits, research activities, career plans and financial stability (for those with research and teaching responsibilities) as well their ability to return home during breaks.
"We hope the study will contribute to collective understanding about how this group comprehends and copes with COVID-related political discourses in both their home and host countries, which sometimes may be at odds with each other," Jiang said.
Domestic students who are interested in pursuing global learning and studying abroad in China are also grappling with the sudden disruption to their academic plans.
Xie said some of his students have experienced challenges to their educational and professional plans because of the government's response to the pandemic. He noted a student last spring who planned to study abroad in China to fulfill requirements for his Chinese double major. Because of the COVID-19 travel restrictions, he was unable to complete his Chinese degree and graduated in May with one major instead of two.
"This is an uncertain time, but it's also a very critical time for international education," Jiang said. "The pandemic made it clearer to us that international perspectives and global learning matter."
---