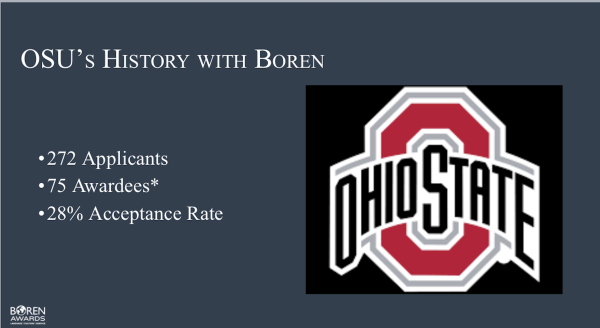 NSEP BOREN SCHOLARSHIPS
Fund study abroad by U.S. undergraduate students in world regions critical to U.S. interests.
 
Maximum awards are determined by duration abroad:
Up to $25,000 for 25-52 weeks (preferred)
Up to $12,500 for 12-24 weeks
Up to $8,000 for 8-11 weeks (STEM majors only)
The Boren Scholarships provide up to $25,000 for undergraduate students to study in countries that are generally underrepresented in study abroad.
Additional information on preferred geographic regions, languages, and fields of study, as well as application procedures can be found at www.borenawards.org. 
For more information, please contact your Boren undergraduate scholarship campus representative, Dr. Rebecca Bias, bias.3@osu.edu, or contact the Boren Awards at 1‑800‑618‑NSEP or boren@iie.org.  
These OIA Guidelines may apply to Register Other Travel.  Please review in advance.